INTRODUCTION
Red Eye Security Limited is a fully licensed security company incorporated in Nigeria which is managed by seasoned security personnel with a wide range of security experiences. The company's client targets include among others, high-net worth individuals, corporate bodies, educational institutions, private and public offices, government departments and agencies etc.
The company has state of the art technology and equipment for crime prevention and detection. This includes the ability to deploy sophisticated security gadgets such as video surveillance and CCTV in any of its locations. It can also effectively prevent vehicle theft, automobile vandalism and physical attacks against all employees and customers.
Red Eye Security Ltd is in partnership with Supreme UK Security Limited, one of the leading security firms in England.
Red Eye Security Ltd can effectively provide a collaborative link between its customers in order to prevent the commission of crime. Exceptional customer service is the watchword of Red Eye Security Ltd with its physical security services designed to fully integrate with client requirements; its proactive enforcement of client policy and its ability to identify potential risks and bring them to clients' attention before they materialise.
Red Eye Security Ltd is known for its disciplined and professional staff who carry out the objectives of the company, observe the company's policies and procedures. Its staff is professionally trained in areas such as security planning, public relations, fire prevention, public decorum, security and law. Comprehensive background screening including criminal records and finger print checks are also carried out.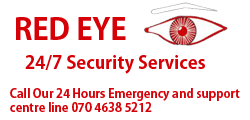 Our Security Officers are closely supervised and ably supported by their Team Leaders and Managers. Together, they have the kind of local knowledge and on-site training that will keep them a step ahead, whatever the threat. They also have the back-up of Red Eye's Security Control Room. Around the clock.
This state-of-the-art nerve centre is at the forefront of CCTV technology, supporting Static Officers and Mobile Patrols in the field, keeping check on Lone Workers in isolated and often demanding workplaces – indoors and out. Ready for the unexpected, they're also just a phone call away from our most senior managers, ready to handle any crisis.